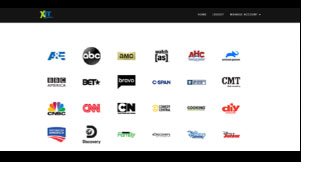 WatchTVeverywhere with XIT Communications! As an XIT IPTV subscriber, you now have a convenient way to watch TV when you are on the go! With watchTVeverywhere, you can stream some of your favorite TV networks and channels right to your computer, tablet, smartphone, or other compatible devices from anywhere in the United States where you can receive an Internet signal. Best of all, it is FREE with your XIT IPTV subscription!
Where can I watchTVeverywhere? You can watch it anywhere you can receive an Internet signal: in your house, backyard, at work, at the mall, at a hotel, the airport, a vacation home - ANYWHERE! Wired connections and in-home Wi-Fi will provide the best overall quality. The quality of WTVE service when traveling will vary on the signal strength and bandwidth of the Internet connection you use.
Each TV network makes their own decision about what to offer on WTVE. ABC & NBC offer full episodes of their shows, but do not offer live feeds because XIT is not an owned & operated station of the networks.
Nearly all WTVE programs are available on all devices (PC, laptop, tablet and smartphone). Some networks may not have all their programs available on all devices though.


1. Your XIT account number (numbers only)
2. The last name on your XIT account
3. Valid email address
Click here to get started watching WTVE today!
---
XIT IPTV & Broadband High Speed Internet*
XIT Communications is here to provide you with the best TV experience ever! Our IPTV service features High Definition TV, Digital Video Recorder (DVR), premium movie channels and now, watchTVeverywhere (WTVE). WTVE allows XIT TV subscribers to watch TV on the go, anywhere your day takes you! All you need is an Internet connection! Check out the link to XIT's watchTVeverywhere Platform above!
Fast, High Speed Broadband Internet is available NOW from XIT Communications! Call XIT today for more details. We have an Internet speed that is just right for you! Here are the speeds XIT currently offers:
Dalhart, Stratford, Hartley, Channing & Boys Ranch:
3/1 Mbps
6/1 Mbps
12/2 Mbps
20/2 Mbps
Rural Markets & Vega:
30/2 Mbps
40/2 Mbps
50/4 Mbps
*Faster Internet speeds are available by special arrangement. Call XIT for details and pricing.
CALL XIT: 244-3355 & 384-3311 in Dalhart
366-3355 in Stratford
533-3355 in Boys Ranch
967-3355 in Vega
---