ONLINE BILL PAY INSTRUCTIONS
As a valued XIT customer, you now have the ability to go online to pay ANY XIT bill (one-time payment or recurring payment), view bills & usage, obtain payment history and even report a trouble problem, all from the comfort of your home! We've made it easy to access and operate for your convenience!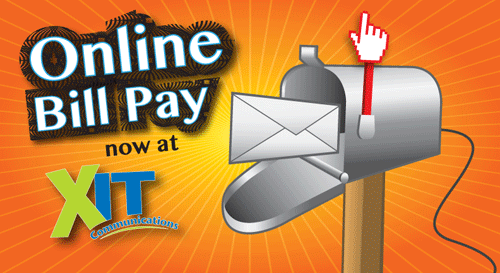 Go to the www.xit.net website and click on Online Bill Pay Link on left side of screen.
The Log In Screen will come up.
Click on Register Here
Enter the Invoice Number (not Account Number) and the Amount Due from your current XIT Communications/XIT Rural Telephone invoice.
Click on the Recaptcha Box 'I'm Not a Robot' and then click on the screens showing what the Recaptcha is asking for to verify you are not a robot. Once you do this, the box will show a green check mark and allow you to click Continue.
Enter your Email Address (which will be your User ID).
Enter a Password. (Password must contain at least 6 characters and one number, uppercase letter or special character.)
Enter Password again to Confirm Password.
Pick one of the security questions by clicking on the drop-down menu and choosing a question. Provide the answer to the question.
Click Register
The screen will show Account Created and it will say 'Success! Your account has successfully been created'.
You will receive an email to verify your email address.
When you receive the email, click on the link in the email to verify your address.
You will get a screen showing Email Verification and it will say Success! Your email address has been successfully verified.
You can now log into the account by clicking Redirect to Login.
Any problems or questions with online billing can be directed to XIT Customer Care at 806-384-3311.